I presented at the ten minute slot for the Small Business Focus breakfast networking event on Thursday 26th May 2011. It was about Brand Guidelines and their importance for a small business. As there was no projector, I decided to print out the presentation onto A3 boards instead… You can read the notes from my talk below each board image below…
Have you ever received a business card from someone that was bombarded with too much information, and then viewed their website afterwards only to find it looks different to their card?? Not a great first impression for a business – and you wouldn?t feel totally confident passing a referral on to someone based on this?
Having a strong, consistent visual identity for any small business is essential in today?s marketplace. It reinforces the trust you have with your customers and makes you stand out from your competitors. Your logo, business cards and stationery, to your website, emails and advertising should all follow a similar style which amplifies your organisations aims. So how do you make sure your brand keeps consistent as your business grows?
Well, this is where brand guidelines come in. They are essentially a simple set of rules and guidelines that explain how your brand works. They can include examples and template designs which can be given to web designers, printers, or press publications to help, for example, layout an advertisement, and apply your logo, or colour values for accurate duplication of your brand.
Typical brand guidelines for a small business can include information such as: Brand message or mission statement. This can also include examples of the ?tone of voice? or style of writing, Logo usage. How and where to use the logo, and what not to do. Minimum sizes and also spacing.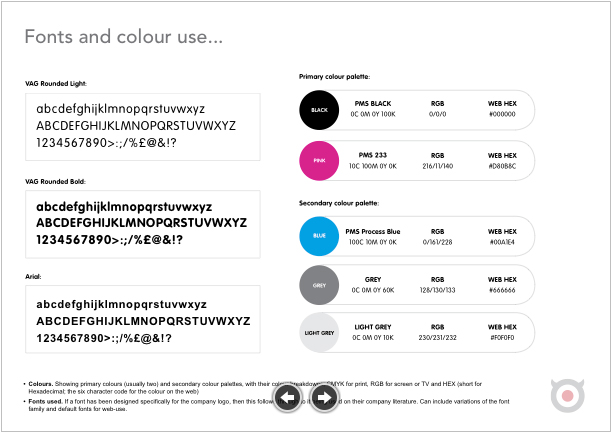 Fonts and colour use. Showing primary colours (usually two) and secondary colour palettes, with their colour breakdowns; CMYK for print, RGB for screen or TV and HEX (short for Hexadecimal; the six character code for the colour on the web).
If a font has been designed specifically for the company logo, then this follows through to it being used on their company literature. Can include variations of the font family and default fonts for web-use.
Photography/image style. If commissioning a photographer or illustrator, their style will be designed uniquely to fit a companies brand style. More commonly, royalty-free imagery can be purchased for small companies on a budget, which, if chosen correctly, can include a good selection from one source.Additional information can be included, such as website icons and site accessibility, signage to vehicle livery.
My name?s Andy Fuller and I run Designbull, specialising in branding and graphic design for small organisations.? I?m passionate about helping small businesses develop their brands through print and the internet and believe that excellent customer service paves the way to quality customer experience. Thanks to Alison McDougall of Relevant Risk for permission to use their guidelines as examples in this presentation.